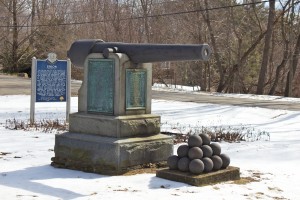 The Town of Union honors its Civil War veterans and their mothers with a monument on the town green.
The monument, dedicated in 1902, features a cannon (which may be a replica) resting on a concrete base. A small cannonball pyramid rests in front of the monument.
A dedication on the southeast side of the monument's base reads, "Dedicated in grateful memory to the mothers who gave their sons, to the soldiers who gave their lives, and to those who, daring to die, survived the War of the Rebellion 1861-1865."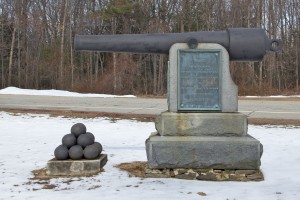 The expression of gratitude toward the soldiers' mothers is uncommon, and perhaps unique among Civil War memorials.
The northwest face of the monument bears a plaque listing 66 Union residents who served in the Civil War.
Somewhat unusually, the honor rolls lists John W. Corbin as well as his substitute, Frank Walker.  Corbin had enlisted in the 22nd Regiment of the Connecticut Volunteer Infantry, but arranged for the substitute (who was also from Union) after his father became ill.
Corbin's family donated the plaques, and Corbin presented the monument to the town during the dedication ceremonies.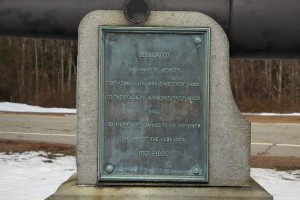 The southwest face of the Union monument lists 10 members of the local GAR post, as well as the monument's 1902 dedication date.
If the cannon is real, its foundry markings are hidden under paint, and its barrel has been filled with concrete.
Behind the monument, a 1978 CT Historical Commission marker provides a brief introduction to the history of Union, which was incorporated in 1734 and was the last town in the state to be settled east of the Connecticut River.
Near the monument, a plaque marks the location of a time capsule scheduled to be opened on the town's 250th anniversary in 2034.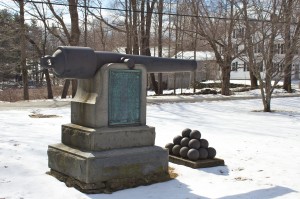 The white building in front of the Civil War monument is the former Town Hall, which was built in 1847 and today serves as the home of the Union Historical  Society.
The Town of Union web site has a rendering of a proposed veterans' memorial that would stand between the Civil War monument and the Historical Society building.