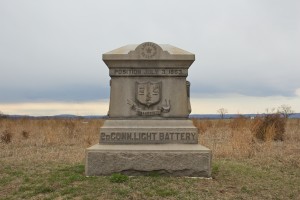 The service of the 2nd Connecticut Light Artillery at Gettysburg is honored with a monument on Hancock Avenue.
The monument, dedicated on July 3, 1888, marks the regiment's position near the left end of the Union line during the Confederate charge toward Cemetery Ridge that ended the battle on July 3, 1863.
The monument's east face bears the state seal and the inscription, "2d Conn, Light Battery. The east face also bears a star emblem and the inscription, "Artillery Reserve."
The north face displays crossed cannons and the year, 1863.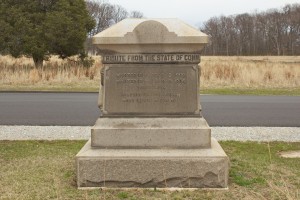 The west face bears a dedication reading, "Tribute from the State of Conn.", as well as a brief regimental history: "Mustered in Sept. 10, 1862. Mustered out Aug. 10, 1865. Engagements: Gettysburg, Fort Morgan (Alabama), Fort Gaines (Alabama), Blakeley (Fort Blakeley, Alabama)."
The south face displays crossed ram staffs and cannonballs, as well as the 1888 dedication year.
The 2nd Connecticut Light Artillery was formed in Bridgeport, and the 115 members of the unit trained at Seaside Park until marching to New York in October for a train to Washington.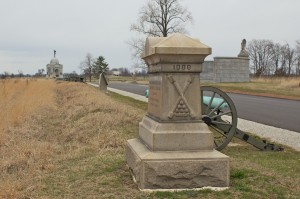 They served in the capitol's defenses before fighting at Gettysburg, where they occupied their position for 56 hours. The regiment's only casualties were three horses.
After Gettysburg, the unit served in Louisiana, Alabama, Arkansas, and Florida before finishing the war in Alabama. They were ordered to return home in July of 1865 and sailed to New Haven before mustering out in August of 1865.