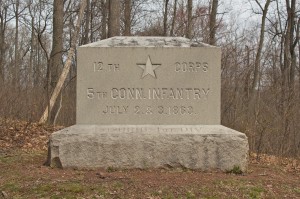 The 5th Connecticut Volunteer Infantry Regiment's service at Gettysburg is honored with a monument near the southern end of Culp's Hill.
The granite monument, along Slocum Avenue, was dedicated in August of 1887. The front (west) face of the monument is inscribed with a simple dedication reading, "5th Conn. Infantry, July 2 & 3, 1863." The west face also has the name of the 12th Corps inscribed, as well as the corps' star emblem. The base is inscribed with the unit's affiliation with the 1st Brigade and 1st Division within the 12th Corps.
The monument's other faces are free of inscriptions or decoration.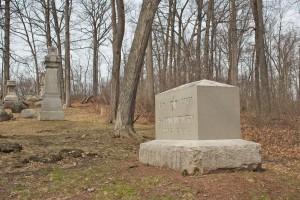 The 5th Regiment, one of the earlier Connecticut regiments, was mustered into service in July of 1861  and included recruits from most of the state's cities and towns. The unit had a total of 1,754 recruits, and its casualties included 81 killed, 2 missing, 254 wounded, and 201 captured.
At Gettysburg, the regiment arrived late in the evening of July 1, and helped build earthworks on Culp's Hill the next morning. After being ordered to support 3rd Corps forces on July 2, the unit later found their original earthworks occupied by Confederates.
The unit fought in the defense of Culp's Hill and supported Union cavalry forces on July 3, 1863.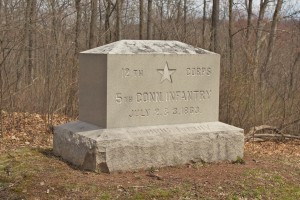 The 5th was one of several regiments that trained along Campfield Avenue in Hartford, near today's Barry Square, before heading south to fight.