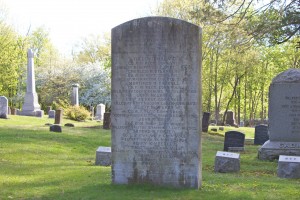 West Hartford honors its Civil War veterans with a simple memorial in the town's North Cemetery.
The Civil War monument, near the cemetery's central driveway, resembles a large-scale version of the traditional Union veteran headstone shape. (In contrast to the rounded top seen on Union headstones, Confederate stones usually have a pointed top.)
The West Hartford monument bears a dedication on its west face reading, "Erected 1904 by the State of Connecticut in memory of the men of West Hartford who offered up their lives, a sacrifice in the Civil War, 1861-1865, and whose bodies were never brought home for burial."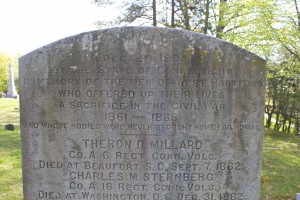 Under the dedication, the monument lists the names, regimental affiliations, and dates and places of death for 10 West Hartford residents lost in the war.
The monument's east face lists an additional name, as well as an excerpt from the Bivouac of the Dead poem seen in several national cemeteries and war memorials.
The monument was supplied by the Stephen Maslen Company, which also supplied Civil War monuments in Suffield and Canton.