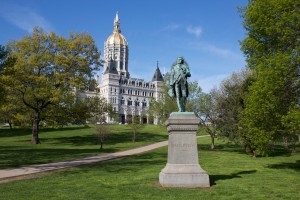 American Revolution General Israel Putnam is honored with a statue in Hartford's Bushnell Park.
The Putnam statue, practically in the shadow of the state capitol building, was dedicated in 1874. The general is depicted, in uniform, cradling a sword in his left hand. Putnam is holding a three-cornered hat in his right hand.
The monument's granite base bears a simple inscription on its front (east) side reading, "Israel Putnam."
Putnam, a native of Danvers, Mass., led Connecticut troops during the Battle of Bunker Hill and may have issued the famous "Don't fire until you see the whites of their eyes," command.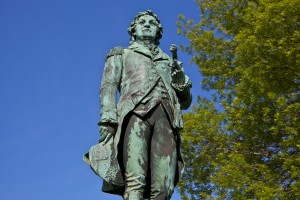 The west side of the base reflects the posthumous donation of the statue by Joseph Pratt Allyn, a Hartford native and a justice on the Supreme Court of the Arizona territory. Ally, who used the pen name "Putnam" when commenting on political events in letters to a Hartford newspaper, left money for the memorial.
The monument was created by sculptor John Quincy Adams Ward, whose other works include the 7th Regiment Monument in New York's Central Park.
Not far from the Bushnell Park monument, Putnam's original headstone has been placed in a case in the Hall of Flags at the Capitol building's west entrance.
After his death in 1790, Putnam was placed in an aboveground tomb in Brooklyn. Over the years, souvenir hunters damaged the headstone, and the gravesite was deemed unsuitable for Putnam.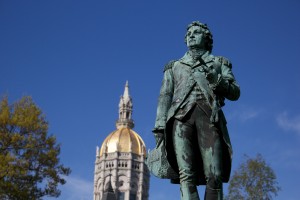 Putnam was moved to a new sarcophagus and monument on Canterbury Road (Route 169) in  Brooklyn, and the original headstone was placed on display in the Capitol.
Putnam is also honored with memorials at Putnam Park in Redding and a Greenwich hill where he escaped from pursuing British forces.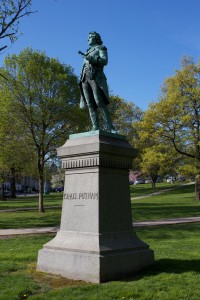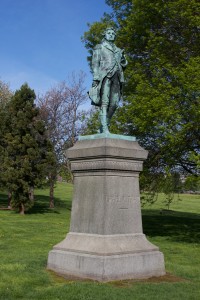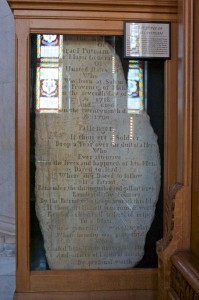 Tags: Hartford