Hartford's Keney Memorial Clock Tower and the small park surrounding it were donated by the Keney brothers in the late 19th century to honor their mother.
The tower, 130 feet tall, stands near the intersection of Albany Avenue with Main and Ely streets.
The tower was dedicated in 1898 to honor Rebecca Turner Keney, the mother of Walter and Henry Keney. The brothers ran the family's wholesale grocery business, which, along with the family home, stood on the site of the tower.
Walter Keney died in 1889, and Henry died in 1894. In Henry's will, money was set aside for Keney Park, to benefit a number of Hartford charities and to build the memorial tower.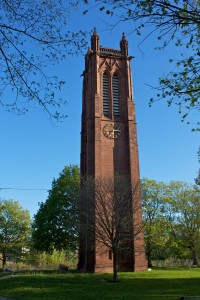 According to the tower's listing on the National Register of Historic Places, a dedication plaque inside the tower's interior reads, "This tower, erected to the memory of my mother, is designed to preserve from other occupancy the ground sacred to me as her home and to stand in perpetual honor to the wisdom, goodness and womanly nobility of her to whose guidance I owe my success in life and its chief joy – Henry Keney."
The tower was designed by architect Charles C. Haight, whose other works include a number of buildings on Yale's Old Campus.
The neighborhood surrounding the tower has changed considerably over the year. In the black-and-white image of the tower, taken around 1905, you can see homes on the other side of Ely Street.
In the background of the black-and-white image of the gate, a commercial building stood on Ely Street, on a now-vacant lot.
By the early 1990s, the park surrounding the tower was overgrown and the tower had been sprayed with graffiti. A restoration by the City of Hartford included replacing gold leaf on the clock face, site improvements and the installation of computerized chimes in the tower.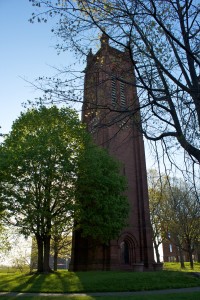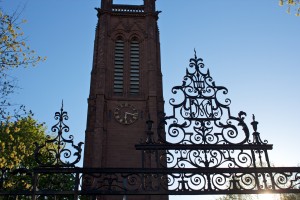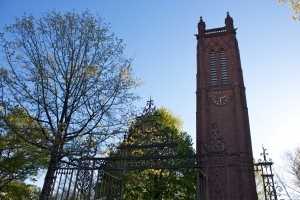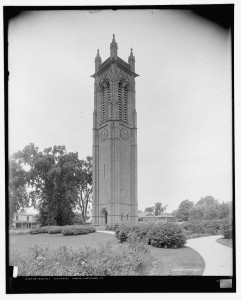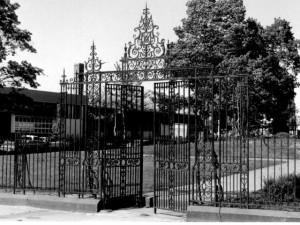 Tags: Hartford