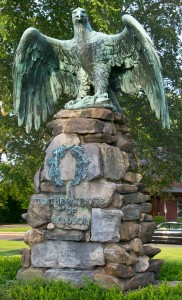 Thanks to reader Brian Festa, we're taking another look at the War Memorial on the Town Green in Windsor.
The Windsor War Memorial, dedicated in 1929, was created by noted sculptor and Windsor resident Evelyn Beatrice Longman.
The monument features a five-foot bronze eagle atop a stone cairn. The monument's front (west) face includes a bronze wreath and a dedication "To the patriots of Windsor."
The monument stands at the southern end of the town green on Broad Street (Route 159).
Photo courtesy of Brian Festa.
Tags: Windsor