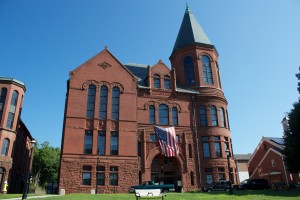 Vernon honors its veterans with a memorial hall and several monuments in the heart of its Rockville section.
Construction began for Memorial Hall in 1889, and the building was finished a year later. The building originally contained a meeting hall for the local Grand Army of the Republic chapter, a courtroom and municipal offices.
Today, the former GAR meeting space is largely occupied by the New England Civil War Museum (which we'll highlight in a future post), and the building continues to host municipal offices and a legislative chamber.
The brownstone and brick building, on Park Street, features a number of large arched windows and ornamental details.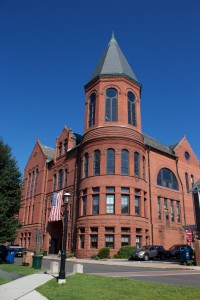 The west side of the Memorial Building, for example, includes large stained glass windows on the second floor. The windows are topped on the exterior with brownstone insets displaying an eagle flanked by the Connecticut and United States shields.
The southeast corner features a tower topped by a turret with large windows and copper ornamentation at its peak.
A smaller United States shield can be seen near the archway over the building's front entrance.
A plaque in the building's lobby commemorates Rockville native Gene Pitney, a singer and songwriter who was inducted into the Rock & Roll Hall of Fame in 2002.
Central Park
Immediately across Park Street from the Memorial Building, a collection of monuments honor Vernon's veterans of the World Wars, Korea and Vietnam.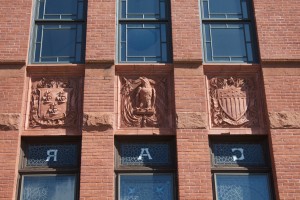 The central monument bears an inscription reading, "Dedicated to the honor and memory of the men and women of the Town of Vernon who so gallantly served their country in World Wars."
To the west of the World War memorial, a monument honors Vernon residents who served in Vietnam. The granite monument bears the names  of seven residents who died in the war.
To the east, a monument honors Vernon's Korean War veterans, and commemorates one resident killed during the conflict.
At the eastern end of the park, a fountain honors William T. Cogswell, a 19th century builder who published a history of Rockville in 1872. The memorial is a 2005 copy of a fountain erected in 1883 by Cogwell's cousin, a San Francisco dentist, investor and ardent temperance advocate.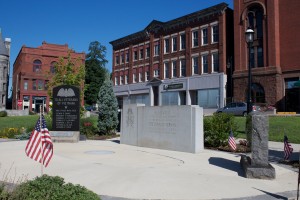 The San Francisco Cogswell erected at least nine fountains in different cities depicting himself, and inscriptions on the base advocated temperance.
Within two years of its dedication, the Rockville fountain had been stolen and dumped in a local lake. The fountain was recovered, stolen and recovered again before being donated to a World War II scrap metal drive.