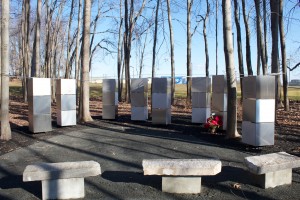 Eight Hartford Distributors Inc. workers killed in a 2010 shooting attack are honored with a memorial on the company's grounds.
The eight HDI workers were killed by a co-worker on August 3, 2010, and were honored in 2011 with a memorial dedicated on the one-year anniversary of the incident.
Eight stainless steel blocks stand in a small grove of trees outside the company's warehouse on Chapel Road in Manchester. Each block bears the name of a fallen HDI employee, along with brief messages written by the victim's family. The blocks, connected across the top by a steel ribbon, also contain personal mementos.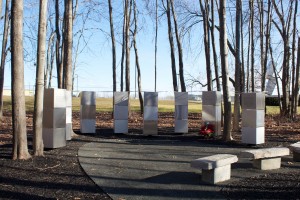 A blank granite tablet near the entrance to the memorial garden reads, in part, "If tears could build a stairway, and memories were a lane, we would walk all the way to heaven, to bring you back again."
In addition to contributions from HDI, funds for the memorial were raised by the Manchester Rotary Club.
Near the memorial, a piece of sculpture by Mort Fishman titled "Ecology" stands near the HDI entrance.