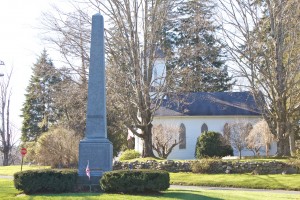 Roxbury native and American Revolution hero Seth Warner is honored with a monument at his burial site on the town green.
The monument, an obelisk dedicated in 1859, marks the final resting place of Warner, who participated in a number of military victories against British forces in New York and Vermont.
An inscription on the monument's northeast face reads, "Col. Seth Warner of the Army of the Revolution. Born in Roxbury, CT, May 17, 1743. A resident of Bennington, VT from 1765 to 1784. Died in his native parish Dec. 25, 1784."
The monument's northwest face reads, "Captor of Crown Point. Commander of the Green Mountain Bouys in the repulse of Carlton at Longueil and in the Battle of Hubbardton and the associate of Stark in the victory at Bennington."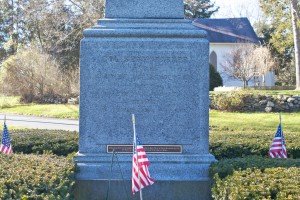 The southwest face reads, "His remains are desposited under this monument. Erected by order of the General Assembly of Connecticut AD 1859."
The southeast face reads, "Distinguished as a successful defender of the New Hampshire Grants and for bravery, sagacity, energy and humanity as a partisan officer in the War of the Revolution."
The northeast face also bears a small plaque commemorating Warner's appointment in 1975 as an honorary major general in the state militia.
The monument was rededicated in October of 2010.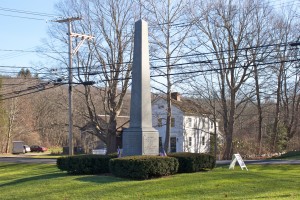 After his death in 1784, Warner was buried in a local cemetery before his remains were moved to the town green in 1859.
Warner is also honored with a statue on the grounds of the Bennington Battle Monument in Vermont.