Jim Thorpe Memorial, Jim Thorpe, PA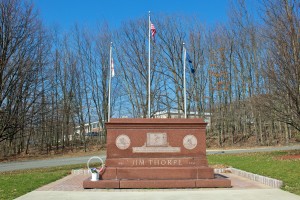 Jim Thorpe is buried in an eastern Pennsylvania town that changed its name and built a monument honoring the famous athlete to attract tourists.
The Jim Thorpe Memorial site is on North Street (Route 93) in Jim Thorpe, PA. The site features a red marble memorial with his name and a quote from Sweden's King Gustav V, who said after the 1912 Olympics that Thorpe was the world's greatest athlete.
The monument also has several images depicting Thorpe competing in the numerous sports in which he excelled, including track and field, baseball and football.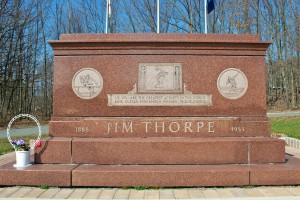 The mound on which the monument sits includes soil from Thorpe's native Oklahoma, New York's Polo Grounds and the Olympic stadium in Stockholm.
The site also pictures a 2007 statue depicting Thorpe as a football player, and another statue, dedicated in 2011, showing Thorpe with a discus.
The Thorpe memorial also includes an abstract sculpture, The Spirit of Thunder and Lightning, that was dedicated in 1998. Surrounding the sculpture, several wayside markers provide highlights from Thorpe's life and athletic achievements.
Famed Athlete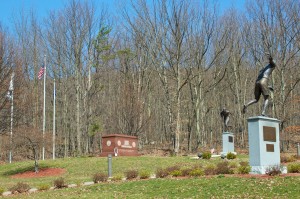 Thorpe, a member of the Sac and Fox tribe, was born in 1888 in Oklahoma. As a young man, he attended the Carlisle Indian Industrial School in Pennsylvania and led its football team to victories over nationally ranked teams.
At the 1912 Olympics, Thorpe won gold medals in the decathlon and pentathlon. The medals were stripped a year later because Thorpe had previously played semi-pro baseball, but restored in 1982.
After the Olympics, Thorpe played professional football for 14 years, and also played professional baseball for six of those years.
Page 1 of 4 | Next page