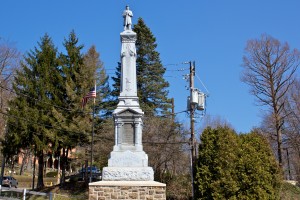 The Borough of Jim Thorpe, PA, honors its Civil War veterans with a zinc monument supplied by a Bridgeport, CT, manufacturer.
The Soliders and Sailors Monument, which stands near Packer Hill Road and the Carbon County courthouse, was dedicated in 1886 to honor veterans of the Civil War and earlier conflicts from the borough (then named Mauch Chunk) and nearby communities.
A dedication on the monument's front (south) face reads, "To the brave defenders of the Union from the County of Carbon." The battle of Appomattox is also listed on the south face.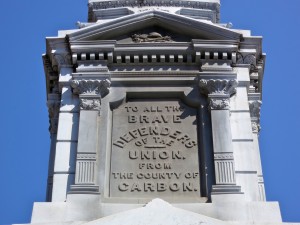 The east face has an excerpt from the Bivouac of the Dead poem by Theodore O'Hara, which appears in several national cemeteries and numerous Civil War monuments (including the Soldiers' Monument in Derby, CT). The excerpt reads, "On fame's eternal camping ground their silent tents were spread, and glory guards with solemn round the bivouac of the dead."
The east face also honors veterans of the 1847 Mexican War.
The north face lists the Civil War battles of the Wilderness, Hampton Roads, Antietam and Gettysburg, as well as the 1815 Battle of New Orleans.
The west face has an inscription reading, "Erected under the auspices of Chapman Post No. 61, G.A.R., 1886." (The G.A.R. was the Grand Army of the Republic, the post-Civil War veterans' organization.)
World War II
The monument also has an Honor Roll plaque on the base of its south face honoring the county's World War II veterans. The plaque has eight columns of names, and honors 18 veterans who died during their World War II service.
The monument was rededicated in 1993 after being damaged in a motor vehicle accident.
White Bronze
The Civil War monument was supplied by the Monumental Bronze Company of Bridgeport, CT, which also supplied the Soldiers' and Sailors' Monument in Stratford, CT. While there are some differences between the Jim Thorpe and Stratford monuments, such as the standard-bearer in Stratford and some ornamental details, the monuments are very similar.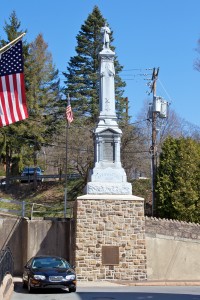 Monumental Bronze was one of the leading suppliers of a zinc alloy they marketed as "white bronze."
White bronze headstones can be seen in many older cemeteries, and can be recognized quickly by their distinctive pewter-like color.
Zinc worked pretty well for smaller headstones, but the soft, brittle material created structural problems when it ws used for large Civil War monuments.
The Jim Thorpe monument received extensive work in 1984 to repair corrosion at its base.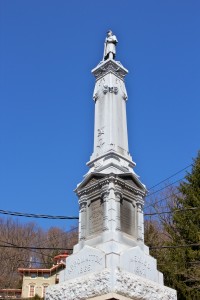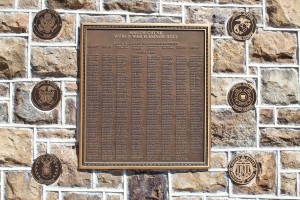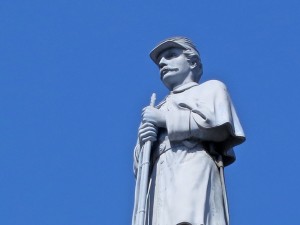 Tags: Pennsylvania