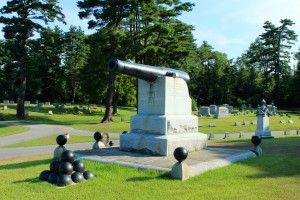 Stafford Springs honors its Civil War veterans with a large cannon in Stafford Springs Cemetery on Monson Road (Route 32).
The cannon, dedicated in 1897, bears an inscription on its south (left) face reading, "A tribute to the patriotism of the men who went to the defence of the country from Stafford in the War of the Rebellion. The present bequeaths to the future the remembrance of the heroic past."
The west face has an inscription reading, "Veterans 1861-1865."
The north face bears an inscription reading, "Erected by Winter Post No. 44, G.A.R., assisted by the Woman Relief Corps, and the Sons of Veterans in honor of their comrades. Dedicated May 30, 1897."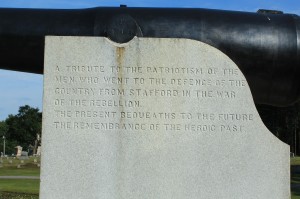 The north face of the monument's base also highlights the donation of the surrounding veterans plot by Orrin Converse, a local attorney and officer of the Stafford Springs Savings Bank.
The cannon, a 32-pounder Rodman Gun, was cast in 1850.