Soldiers' and Sailors' Monument, New Haven
The 110-foot tall Soldiers' and Sailors' Monument high above New Haven is visible for miles on a clear day.
The monument, at the summit of East Rock Park, was dedicated in 1887 to honor soldiers and sailors who fought in the American Revolution, the War of 1812, the Mexican-American War and the Civil War.
The monument features a round granite column rising from a square base with allegorical bronze statues on all four corners, and bas relief sculptures depicting scenes from the highlighted wars.
The monument is topped by an 11-foot tall statue known as the Angel of Peace, which faces downtown New Haven and holds an olive branch in an outstretched left arm. The statue, originally installed in March 1887, was restored in 2006 and returned to the top of the monument.
Four allegorical statues appear on the corners of the monument's base. The west corner depicts History holding a book, and the south corner symbolizes Patriotism holding a sword. The east corner represents Victory, and the north corner depicts Prosperity.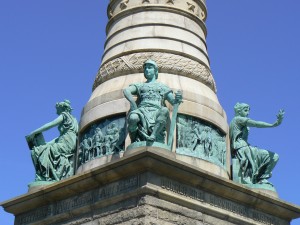 The front (southwest) face of the monument honors the Civil War, and lists the battlefields of Gettysburg, Port Hudson (La.) and Fort Fisher (N.C.). A scene on the southwest face depicts Robert E. Lee's surrender of the Army of Northern Virginia at Appomattox Court House, Va. in April of 1865. In this scene, Lee appears to have a painful headache, which, under the circumstances, is probably understandable.
The southwest face also has a door to the interior of the monument that has been boarded over, probably because the interior staircase to the upper-level viewing area has reportedly fallen into disrepair.
Moving to the right, the southeast face of the monument honors the American Revolution by listing the battlefields of Bunker Hill (outside Boston), Bennington (Vt.) and Saratoga (N.Y.) below a scene depicting the British surrender at Yorktown.
The southeast face also bears one of two large bronze plaques with 520 names of soldiers and sailors from New Haven who died in the Civil War. The plaques, which were added to the monument in 1894, have ornate decorative borders with raised moldings and ribbons that feature regimental emblems and the names of Civil War battlefields.
The plaque on the northwest face is substantially darker than the plaque on the southeast face, and along with the scenes on this and the northeast face, could use a good cleaning.
Page 1 of 4 | Next page