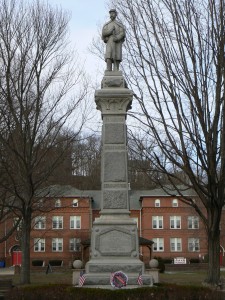 The Soldiers' Monument on Naugatuck's Town Green was dedicated in 1885 to honor local residents who served in the Civil War. 
The monument, which sits at the center of the green, features a granite shaft topped by a statue of a caped infantryman resting with a rifle. The front (east) face of the monument lists the battles of Fort Wagner (S.C., near Charleston), the Wilderness (in central Virginia) and Cedar Mountain (Va.). Just above the base is the dedication by the people of Naugatuck "in memory of her sons who fought to maintain the Union 1861-1865."
The south face (to the soldier's right) doesn't list any battles, but does ask that the "God of nations preserve our country in the bond of peace now established," a message that reflects the broader spirit of reconciliation the country was experiencing during that era. By then, the post-war bitterness of Reconstruction had started to fade, and preservation efforts were being made at major battlefields such as Gettysburg.    
The rear (west) face of the monument lists the battles of Chancelorsville (Va.), Petersburg (Va.) and Antietam (Md), as well as a dedication to "the citizen soldier, fearless in war, industrious in peace."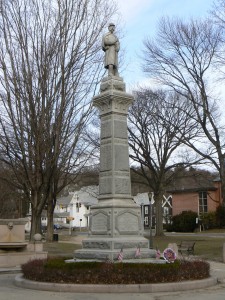 The north face lists the battles of Malvern Hill (Va.), Getttysburg and Atlanta, and a message reminding us that "the deeds of those who died in defense of the government of the people are immortal."
The Naugatuck monument is enclosed with a circular planting bed, and a stone fountain sits immediately behind the monument. Further back, across Meadow Street, is Salem School, which was built in 1893 and is itself listed on the National Register of Historic Places. 
The vintage postcard depicting the monument was postmarked in 1905 and mailed to the Woodmont section of Milford.