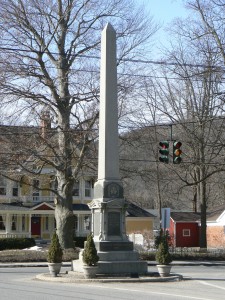 Kent honors its Civil War veterans with an 1885 obelisk in the intersection of North Main Street (Route 7) and Bridge Street (Route 341).
The simple obelisk stands slightly off-center in the middle of Route 7, protected from traffic only by four planters and a low curb.
A dedication on the monument's front (north) face reads, "A tribute of honor and gratitude to her citizens who fought for liberty and Union, 1861-1865". The bottom of the base is inscribed with the words, "Erected by the people of Kent, 1885."
The Connecticut shield is also engraved in the monument's north face.
The monument's other faces are free of engraving or ornamentation.
The obelisk was originally built closer to the true center of the intersection, but was shifted to the west during a 1924 widening of Route 7.
Information about the monument's designer has not come to light, but the Kent obelisk has been attributed to Robert W. Hill, who designed the nearly identical 1871 Soldiers' Monument in Woodbury. If Hill wasn't responsible for the Kent monument, someone ripped off his Woodbury design.