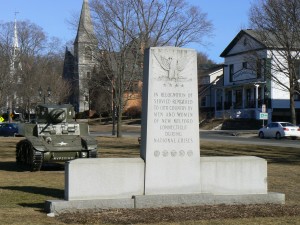 New Milford honors local veterans and war heroes with a collection of monuments along the town green.
At the southern end of the New Milford green, a large monument honors all local veterans. The monument features a large carved eagle, and an inscription on its southern face reads, "In recognition of  service rendered  to our country by  [the] men and women  of New Milford, Connecticut, during  national crises." Below the inscription are the shields of the five military branches.
Just above this monument (if you're moving north along the green) is a restored World War II tank that, according to the New Milford Historical Society, was placed on the green in 1948 by the local VFW post.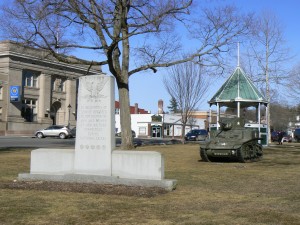 To the east of these memorials, a flagpole honors New Milford's World War II veterans. A plaque on the flagpole's stone base lists 18 residents who list their lives.
Continuing north, we find a granite monument that honors World War I veterans on its southern face and Civil War veterans on its northern side. The World War I plaque bears the dedication, "This tablet is dedicated in commemoration of the men of New Milford who served their country in the World War." Below the dedication are three columns of names, including 12 who were killed in the conflict.
The Civil War plaque on the monument's northern face bears a nearly identical inscription that also appears above three columns of names. Two granite eagles that flank the east and west sides of the monument's base have lost their beaks over the years.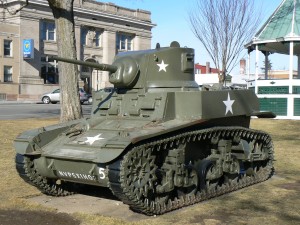 North of the World War I/Civil War monument is the bell of the USS Pittsburgh, the flagship of Harry Shepard Knapp. Knapp, who had extensive family ties to New Milford, was a World War I vice admiral of the U.S. Navy, military governor of Santo Domingo, and the U.S. military representative in Haiti. The monument with the bell was dedicated in 1951.
Just above the northern end of the green, a monument honors Abraham Lincoln with a bronze bust. The front (south) side of the monument's base features an elongated oval plaque (not unlike a pressed penny) inscribed with the Gettysburg Address. The north side features a similar plaque explaining the monument is a 1912 gift of Edward Williams Marsh, who served in Company M of the Second Connecticut Volunteers Heavy Artillery regiment during the war.
The monument is dedicated, "In Loving Memory of the Soldiers and Sailors of the Union Army and Navy,  1861-1865, and of  Abraham Lincoln,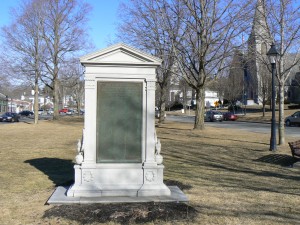 President of the United States,  1861-1865. Besides being in many skirmishes, the New Milford troops were engaged in the battles of Gettysburg, Cold Harbor (Va.),  Petersburg (Va.), Opequan (Va.),  Fisher's Hill (Va.),  Cedar Creek (Va.),  Sailors Creek (Va).,  Fort Fisher (N.C.)"