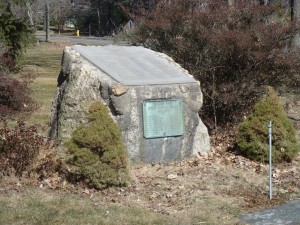 A boulder on the village green in the Nichols section of Trumbull honors veterans of both World Wars.
The boulder, not far from the green's southwest tip and the intersection of Shelton Road and Huntington Turnpike (Route 108), features two undated plaques honoring local veterans.
The World War I plaque, mounted on the front face of the monument, lists the names of 18 residents under the heading "Nichols, Conn., World War veterans, 1917-1918.
Atop the boulder, a plaque honors World War II veterans with a dedication reading, "In memory of the men and women of the Village of Nichols who served in World War II." The plaque also lists the names of five residents who were killed, and the names of 103 residents are listed in four columns.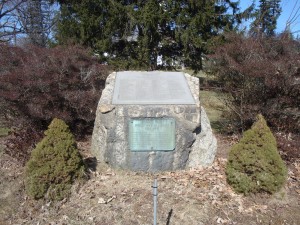 Also near the tip of the green, a stone monument bears the seal of the town of Trumbull.
To the west of the green, near the corner of Huntington Turnpike and Unity Road, stands the village's landmark Bunny Fountain. The fountain originally stood at the tip of the green, and included a kerosene lamp and a horse trough. Over the years, the lamp was removed and the bunnies were added, and the fountain was moved twice to its present location.