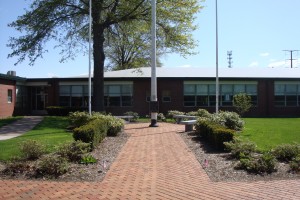 The town of Orange honors local veterans with memorials in two locations.
At the High Plains Community Center, the town dedicated a Remembrance Walk display in 2005. Local families purchased bricks honoring the service of veterans in a variety of wars dating back to the American Revolution.
A plaque on the largest of the three flagpoles at the site bears the emblems of five service branches as well as a quote from President John F. Kennedy: "The cost of freedom is always high but Americans have always paid it. And one path we shall never choose is the price of surrender or submission."
The Remembrance Walk also features several granite benches as well as decorative shrubbery.
Not far from the Remembrance Walk, a boulder on the town green bears a plaque dedicated by the local American Legion post in memory of veterans of the country's major wars between the American Revolution and Vietnam.
A nearby engraved boulder monument honors the local volunteer fire department. 
Orange's Civil War veterans are also honored on the Soldiers' and Sailors' Monument in West Haven's Oak Grove Cemetery, which was in Orange when the monument was dedicated in 1890. (West Haven was split off from Orange in 1921.)