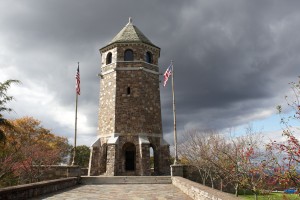 A granite tower in the Rockville section of Vernon honors local veterans of all wars.
The War Memorial Tower, in Rockville's Henry Park, stands at the summit of Fox Hill. The tower site includes a large plaza with a dedication plaque reading, "Memorial to the Veterans of Our Wars. Constructed by Works Progress Administration. Sponsored by the City of Rockville and the Town of Vernon, Connecticut, 1939."
Plaques on the tower's base honor veterans of the Army, Navy and Marine Corps, and bear the symbols of those service branches. We're guessing the alcoves underneath the plaques once held markers listing local veterans, but could find no reference to when the plaques may have been removed.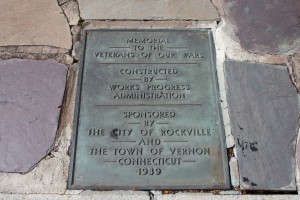 The tower was designed by architect Walter B. Chambers, whose works include two buildings on Yale's Old Campus and a number of New York City buildings, and was modeled after a 1,500-year-old tower in France.
The site offers nice views of downtown Rockville and, on a clear day, as far as Mount Tom and Mount Holyoke. In the center foreground of our picture of the view, you can see Rockville's 1890 Memorial Building, which was dedicated to honor local Civil War veterans.
Henry Park was donated to Vernon by E. Stevens Henry, a businessman and politician who served as mayor of Rockville, and was also elected to several state offices and the U.S. Congress.