This week, we look at several monuments on (or near) the green at the heart of downtown Milford, which was founded in 1639. We'll start with the Soldiers' and Sailors' Monument, which was dedicated in 1888 to commemorate local residents who served in the Civil War.
The four sides of the monument beneath the soldier lists battle locations of Gettysburg, Fort Fisher (North Carolina), Port Hudson (Louisiana) and Appomattox, and also feature several symbolic icons.
A flower bed at the base of the monument helps to discourage active interaction with the monument during warmer weather.
The flagpole in the background of the image facing away from the monument was built in 1954, and is dedicated to the citizens of Milford who have lost their lives in World War II, Korea and Vietnam (monuments honoring those wars will be featured later this week). Its 15-sided base includes 13 stone markers listing the names of 93 local residents killed in those conflicts.
As you can see from the vintage postcard below, a gazebo has long stood near the monument. The card's postmark is unclear, but the back is divided, so it was printed after 1907. If you look in the lower left corner (enlarged in the next image), you'll see a horse-drawn delivery carriage.
In front of the monument is a memorial fountain erected by the Ford family to honor their ancestor Thomas Ford, one of Milford's founders. The fountain is  used today as a planter.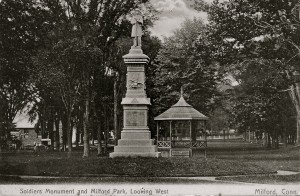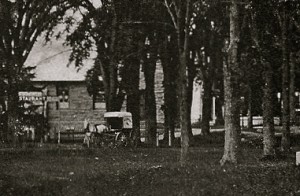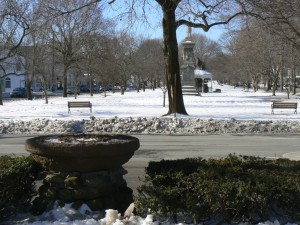 Sources:
Connecticut Historical Society: Civil War Monuments in Connecticut
Milford, Connecticut, 350th Anniversary Book (1639-1964)
History of Milford Connecticut 1639-1939, Federal Writers' Project, 1939 (1973 reprint by the Milford Historical Society)
Tags: Milford