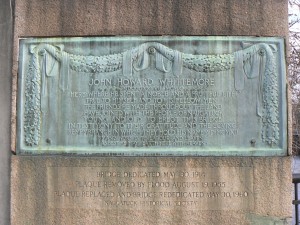 The Maple Street bridge across the Naugatuck River was dedicated in 1914 to John Howard Whittemore, a local industrialist and philanthropist who died in 1910. Whittemore founded the Naugatuck Malleable Iron Company, which became Naugatuck's largest employer during the post-Civil War boom.  The company supplied iron for railroads, carriage makers and producers of shears, among other industries.
Whittemore, who was also a director of the New York, New Haven and Hartford railroad, donated a number of buildings to Naugatuck, including the 1893 Salem School, the Congregational Church and the Howard Whittemore Library, which was named after a son. He also played a role in raising funds for the local high school, the Soldiers' Monument on the green and other local institutions and private causes.  
Whittemore's firm, now named the Eastern Company, continues to supply industrial hardware, security equipment and metal castings.
Whittemore Glen State Park, on the border between Naugatuck and Middlebury, was once part of the Whittemore's land holdings.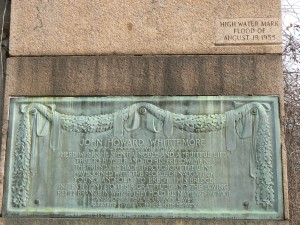 The bridge, which bears a plaque honoring Whittemore on the  northwest abutment, also serves as a memorial to the devastating floods that hit the Naugatuck River Valley on August 19, 1955. Just above the Whittemore plaque is a notch, eight feet and two inches above the sidewalk, marking the crest of the flood in Naugatuck. 
The flooding occurred when two hurricanes struck the state within five days of each other and flooded most of the state's communities. As a smaller river, the Naugatuck did not have flood monitoring equipment of controls found on some larger rivers, which increased the damage to riverside and downtown sections of many of the area's communities. 
In Naugatuck, four people were killed, while further north in Waterbury, 29 people died in the floods.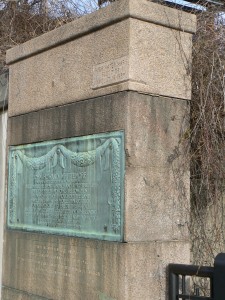 Additional information about the 1955 floods is available from the Connecticut State Library. The Derby page on the Electronic Valley Web site has information and images about the flood damage in that town and there are a number of images of Waterbury at this site.