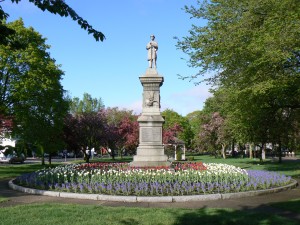 The first time we highlighted the 1888 Soldiers' and Sailors' Monument on Milford's green, it was early February and southern Connecticut was covered with what appeared at the time to be perpetual snow cover. Now that winter has gradually faded into spring, we noticed the impressive collection of flowers surrounding the base of the monument and, given a brief break from the rains of the past week or so, decided the monument warranted another post.
The monument sits at the center of a round planting bed that features an outer ring of what we believe to be in the hyacinth family (we're somewhat embarrassed to admit that we know so little about plants that our first two guesses at how to spell "hyacinth" stumped Google, and we eventually had to search for "purple flowers") along with several rows of white, purple and red tulips (those we know).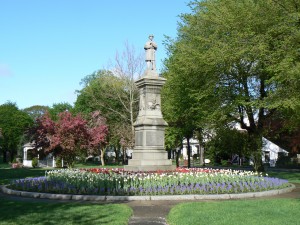 As we mentioned in February (the bottom image is from that post), the monument was dedicated in 1888 to honor the service of local Civil War veterans in battles including Gettysburg, Fort Fisher (N.C.), Port Hudson (La.) and Appomattox.