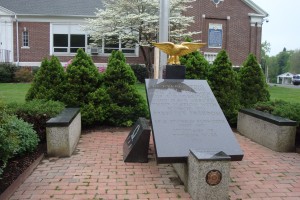 A black granite slab mounted outside the town's police department honors Woodbridge's veterans.
The monument, dedicated in 1994 by Woodbridge's  Lt. G. Bronson Bedworth Post of the Veterans of Foreign Wars, bears the inscription "In everlasting tribute to the men and women of Woodbridge who have served their nation with honor to preserve freedom."
The polished granite slab is topped by a gold-colored eagle, and has medallions representing the various military service branches mounted on separate slabs. Two granite-topped benches, a flagpole and a variety of ornamental shrubs complete the monument site, outside the police station on Meetinghouse Lane.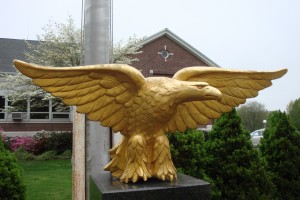 A small boulder on Racebrook Road, slightly north of the intersection with Ansonia Road, marks the former homestead of American Revolution veteran Samuel Baldwin, who was killed in present-day West Haven during the 1779 British attack on New Haven. The boulder features a bronze plaque listing the dates of Mr. Baldwin's birth and date, and explaining the monument's location at his former home.