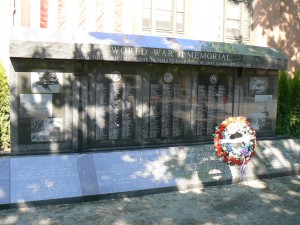 On the 65th anniversary of the D-Day invasion, the city of Bridgeport dedicated a new memorial honoring the 550 local residents lost in World War II.
The new monument, made from polished black granite, was dedicated during a ceremony Saturday morning that featured World War II veterans and local officials who gathered on the Broad Street side of McLevy Hall.
In the video at the top of this post, you can watch the unveiling of the monument Saturday morning. A bit later, you'll see the placement of a wreath in front of the monument by Bridgeport mayor Bill Fitch and his father, who served in a destroyer during the Normandy invasion on D-Day.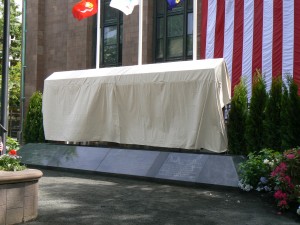 Standing near the monuments to World War I and the Vietnam War, the World War II memorial bears the dedication "to those who made the ultimate sacrifice so that others would live."
The monument also features three panels listing local residents killed in the conflict, as well as two panels with images from the war.
The panels listing the local heroes are framed by two small waterfalls symbolizing the war's Atlantic and Pacific theaters. The waterfalls feed a small pool just above the monument's base. At night, the monument is lit by a series of small lights embedded in the monument's frieze.
The monument also honors the contributions of Bridgeport's large manufacturers and employers to the war effort. For instance, the Corsair airplanes featured in the upper third of the far-left panel were manufactured in the city. In addition, 37 local companies are listed on the four panels that comprise the monument's base (The fact that many of the companies listed on the monument have left Bridgeport, been acquired or closed altogether reflects the shift of manufacturing away from the northeastern United States and, eventually, out of the country).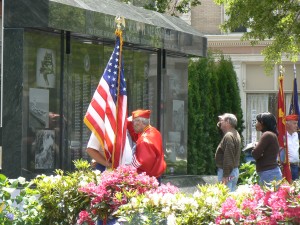 The monument was designed by U.S. Navy Commander Ted Grabarz, who spoke during the dedication ceremony.
During the dedication ceremony, a block-long section of Broad Street was closed to traffic and filled with seated veterans and family members. People also watched the ceremony from the plaza in front of the City Hall annex building across the street.
 The reasons for the long delay after the war's conclusion to build a World War II monument aren't clear. The effort gained momentum about four years ago when a committee was formed by the previous mayoral administration, and the current mayor maintained the project's momentum.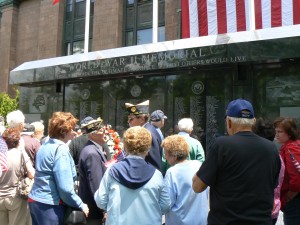 The area around the monument was renovated into a tasteful plaza that includes a walkway of memorial bricks honoring local veterans. The monument's organizers say additional bricks will be installed in time for Veterans' Day ceremonies.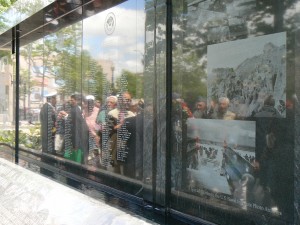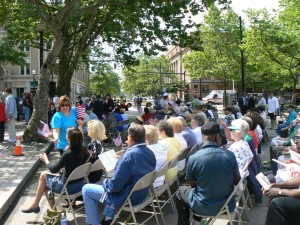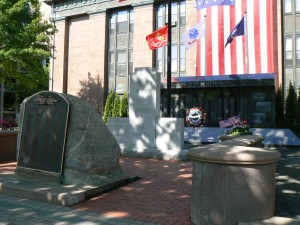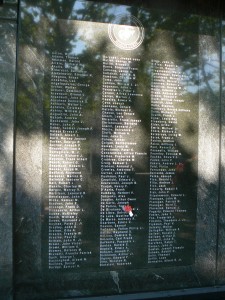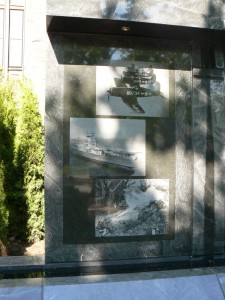 Tags: Bridgeport