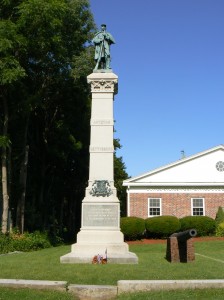 Brooklyn has honored the memory of local Civil War veterans with a Canterbury Road monument featuring an infantry officer standing atop a granite pillar.
The monument, dedicated in 1888, was designed by sculptor Karl Gerhardt, who was also responsible for the nearby monument honoring American Revolution hero Israel Putnam.
The front (east) face of the Civil War monument bears a dedication "To the memory of all the brave men of Brooklyn who fought on land or sea for the preservation of the Union." The east face also lists the battles of Antietam and Gettysburg.
The rear (west) face of the monument bears a bronze plaque listing the names of approximately 165 residents who served in the conflict, and also lists the battles of Winchester and Drury's Bluff (Virginia).
The north face lists battles in New Berne (N.C.) and Cold Harbor (Va.), and the south face lists the battles of Petersburg and Cedar Creek (Va).
Bronze decorative elements on the monument include the Connecticut state seal as well as emblems honoring artillery and naval units.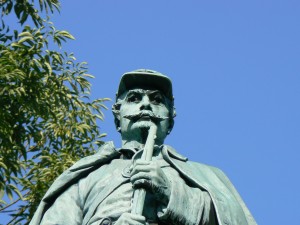 The monument was donated to Brooklyn by Thomas S. Marlor, a English native and successful financier who retired to the town in 1869. Marlor also donated the site of the Putnam monument, which was funded by the state.
An 1863 Parrott Rifle cannon has been mounted on a brick base next to the monument. The cannon's barrel is free of litter, and contains only a wasp or hornet nest that we declined to explore further.
Just north of the Civil War and Putnam monuments, Brooklyn has erected a monument to the residents who served in World War II, Korea and Vietnam. The World War II monument features five granite panels listing the residents who served, as honoring seven who died in the conflict. Separate panels, dedicated in 2000, honor the service of local residents in Korea and Vietnam.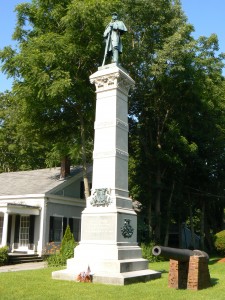 A bit further north on Canterbury Road, a plaque on a boulder honors the residents who served in World War I. The plaque contains about 72 names, and honors three residents who died in the war.
Source:
Connecticut Historical Society: Civil War Monuments of Connecticut