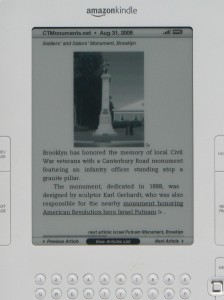 Good news for Connecticut historic monument fans who own Kindles…we've been added to Amazon's Kindle Blogs Store. That means that three times a week, you can have our latest update sent directly to your Kindle device.
Here's more info about subscribing.
If you'd rather see the state's historic monuments and sites documented in full-color glory, we'll still be right here. Tomorrow the fun resumes with a look at the Soliders' and Sailors' Monument in Clinton, CT. See you then.