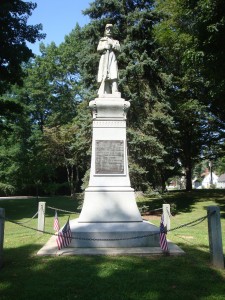 A granite infantry soldier stands atop a Civil War monument on Clinton's Liberty Green.
The monument, dedicated in 1911, features the soldier and a granite base with curved sides that narrows toward the figure. A bronze plaque on the front (south) face reads "Erected by the Woman's Relief Corps and the citizens of Clinton in memory of the soldiers and sailors who fought to preserve the Union 1861 – 1865 For the dead a tribute, for the living a memory, for posterity an emblem of loyalty to the flag of their country"
Other than the plaque, the monument bears no writing. A state of Connecticut seal appears on the monument's north face. The figure has growth on his left arm and his right side, along the line between him and his rifle.
The monument is surrounded by a chain supported by four stone pillars, and a cannon used in the War of 1812 stands alongside the monument.
The Woman's Relief Corps was an auxiliary of the Grand Army of the Republic, and was also responsible for the Soldiers' Monument in Putnam. The WRC's involvement and the relatively late dedication date may reflect the women taking action after waiting 40 years for the town's male veterans to build a monument.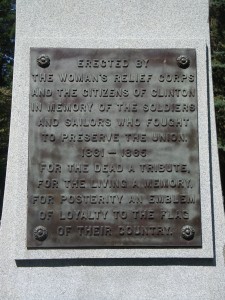 About three-tenths of a mile west along East Main Street (Route 1), a monument in front of Town Hall honors those who served in other wars. The central panel on the front (north) face lists 10 residents who were killed in the two World Wars and Korea. The two side panels list those who served in the World Wars, and the three panels on the monument's south face lists residents who served in the nation's other wars.
Source:
Connecticut Historical Society: Civil War Monuments of Connecticut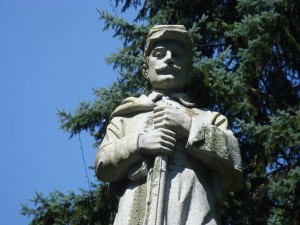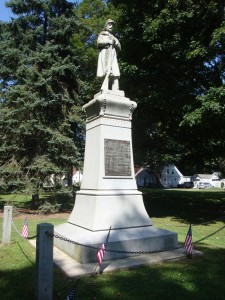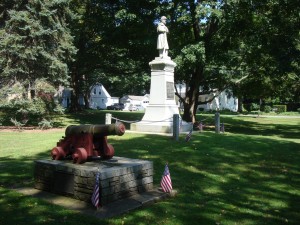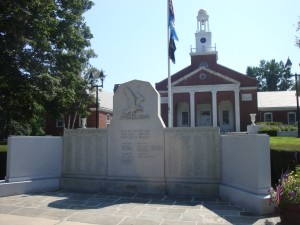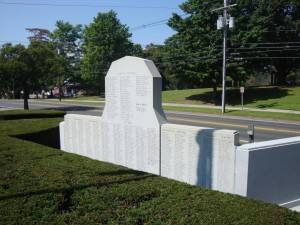 Tags: Clinton