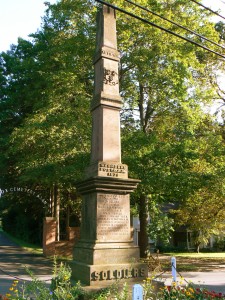 An 1871 brownstone obelisk in East Berlin honors the service of local Civil War veterans.
The understated monument stands in a traffic island at the T-shaped intersection of Main Street and Berlin Street. An inscription at the base of the front (south) face reads "Soldiers." The south face also lists the names and unit affiliations of 14 local Civil War veterans as well as the battles of Antietam and Gettysburg, and is also decorated with a Connecticut seal.
The east face lists nine names and the battles of Petersburg (Va.) and Port Hudson (La.). The north face lists the Confederate prison camp in Florence, S.C. (an uncommon reference on CT Civil War monuments) and Andersonville, Ga., as well as 14 names. The west face lists 15 names and the battles of the Wilderness and Fredericksburg, both in Virginia.
The shaft is topped by funerary decorative elements, but otherwise is fairly plain. Obelisks were customary for Civil War monuments built in the 1860s and early-to-mid 1870s, with the soldier-on-a-pedestal designs becoming popular a bit later.
The Berlin monument was erected by the local Grand Army of the Republic post. Overall, it remains in good condition, and only has a small amount of lichen growth. The traffic signs are an unfortunate but probably necessary addition to the traffic island surrounding the monument.