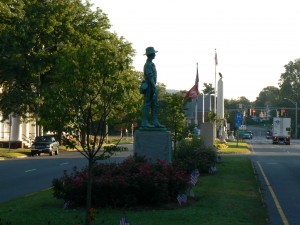 Meriden boasts an impressive collection of military monuments along a nearly quarter-mile stretch of Broad Street (Rte. 5).
The largest of the monuments, near the intersection of Broad Street and East Main Street, is the city's 1930 World War Monument. The monument, by Italian sculptor Aristide Berto Cianfarani, features four figures (representing infantry soldiers, marines, sailors and nurses) at the base of a pointed shaft topped by an allegorical eagle.
An inscription on the western face of the monument's base reads, "Dedicated to those from Meriden who made the supreme sacrifice in the service of their country during the World War 1917-1918."
The other faces of the monument's base list local residents lost in the conflict. Fluting along the column's shaft and a collection of bronze stars just below the eagle symbolize the United States flag.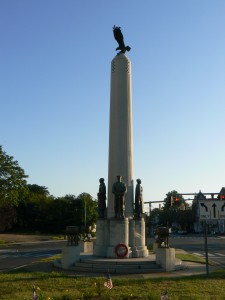 Not far from the monument is Meriden's World War Wall of Honor, which features six large bronze plaques, each with four columns of names.
Also near the World War monument is the city's 1955 World War II Honor Roll, which features two granite monuments with three plaques on each side. Each of the 12 plaques has five columns of names, and a small corrections plaque has been attached to one of the monument's faces.
Moving south along the Broad Street median, we find a Gold Star monument honoring war heroes. The monument features an eagle and four service emblems on its south face, along with the dedication, "To live in the hearts of those we leave is not to die."
Just across a gap in the median stands the city's Marine Corps Monument, which was erected in 1976 by local Marines to honor members' service on the Corps' 201st anniversary. The U.S. and Marine Corps flags are displayed near the monument.
A bit further south is Meriden's Spanish-American War monument, which features a rifle-bearing soldier facing east. A plaque on the monument's east face has three columns listing the names of residents who served in the conflict.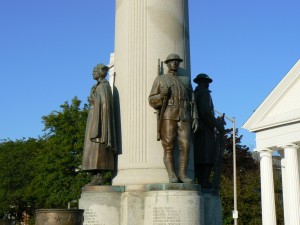 Continuing south, the next monument honors the service of residents in Korea and Vietnam. A dedication on the east face reads, "In memory of the citizens of Meriden who answered their country's call." The left section of the monument lists the 20 residents who fought in Korea, and the right section lists the names of 25 Vietnam veterans.
The last Broad Street monument we'll look at honors Count Casmir Pulaski, a Polish military commander who emigrated to what would become the United States and became a brigadier general during the American Revolution. Regarded as the father of the American cavalry, Pulaski was killed in 1779 during a siege in Savannah, Ga.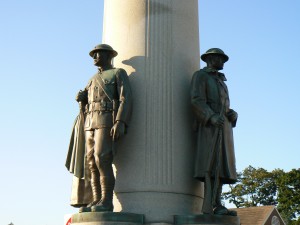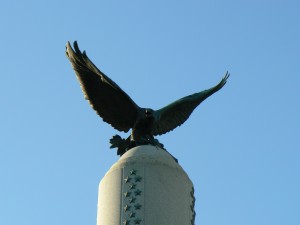 Tags: Meriden