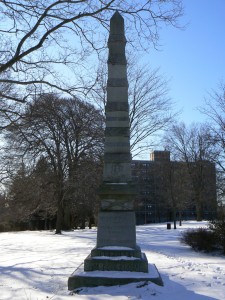 The Civil War 21st Regiment, Connecticut Volunteer Infantry, is honored with a granite obelisk in New London's Williams Memorial Park.
The monument, near the north corner of the park, was dedicated in 1898 to honor the soldiers of the 21st regiment, which was founded in 1862 and recruited primarily members from eastern Connecticut towns.
The front (north) face of the monument is inscribed, "21st. Regt. Conn. Vol.,"  and the unit's service years of 1862-1865 are listed above. A little higher on the north face, a dedication reads, "Erected Sept. 5, 1898, by the state of Connecticut in honor of her citizen soldiers." (The monument was dedicated on Oct. 20, 1898.)
The north face also lists the unit's service at the battles of Drewry's Bluff and Petersburg, and the west face lists battles of Fort Harrison and Richmond. The south face lists the battles of Fair Oaks and Suffolk, and the east face honors the battles of Fredericksburg and Cold Harbor. (All the listed battles took place in Virginia.)
Survivors of the regiment originally voted to place the monument in Willimantic, but a disagreement over the monument's location (the regiment wanted in front of Town Hall, while local officials preferred the high school grounds) led to an offer to erect the monument at its site in New London.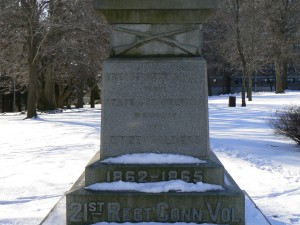 A wayside marker near the monument, part of a downtown walking tour, describes the significance of the monument and the surrounding neighborhood.
Source: Connecticut Historical Society: Civil War Monuments of Connecticut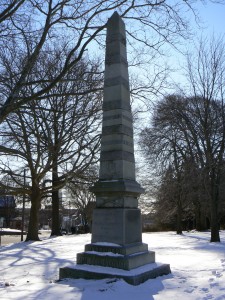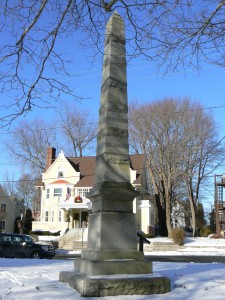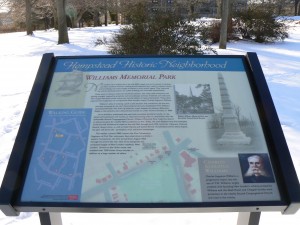 Tags: New London