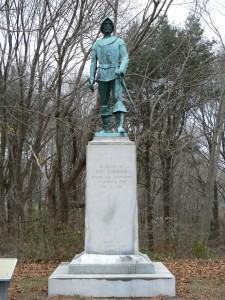 Old Saybrook maintains the site of New England's first fortification as a park featuring elevated boardwalks through a scenic riverside marsh.
Fort Saybrook Monument Park, near where the Connecticut River empties into Long Island Sound, marks the site of a 1636 fort constructed by English military engineer Lion Gardiner to defend the Old Saybrook settlement during fighting between English settlers and the Pequot tribe.
Gardiner is honored with a 1930 statue created by sculptor William Ordway Partridge, who was also responsible for at least 60 other public statues and busts. A dedication on the front (south) face of the monument's pedestal reads, "In memory of Lion Gardiner, builder and commander of Saybrook Fort, 1635-1639."
In 1639, Gardiner, who became friendly with local Native Americans, settled an island off the east end of Long Island that would later bear his family's name. Descendents continue to own the island 11 generations later.
Along with the Gardiner statue and a small fence marking the site of the original fort, the 18-acre park also features the former site of the Connecticut Valley Railroad's roundhouse and end-of-the-line turntable. Train tracks and wheels show where trains were once turned around for northbound trips.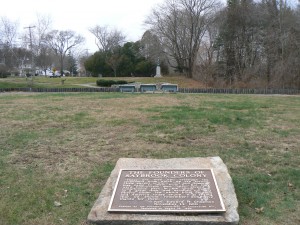 The site was transferred from the state to Old Saybrook in 1981 and developed into a park.
A number of wayside markers provide information about the fort, the settlement of Old Saybrook, the railroad, and the nearby river and marshlands. An extensive network of boardwalks across the marsh area provides the opportunity to see coastal birds and wildlife.