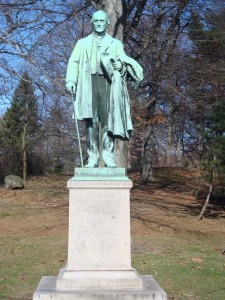 Bridgeport honors the donor of the city's Beardsley Park with a statue near the park entrance.
In 1875, Beardsley, a farmer and cattle dealer, donated more than 150 acres of land in the city's north end for use as a park. Frederick Law Olmstead, the landscape architect responsible for New York's Central Park and Bridgeport's Seaside Park, designed Beardsley Park.
The 1909 statue of Beardsley, at the park's Noble Avenue entrance, depicts a standing figure with a cane in his right hand, and a hat in his left. An overcoat is draped over his left forearm.
A dedication on the south face of the monument's base reads "In memory of James W. Beardsley, donor of Beardsley Park. Erected by the people of Bridgeport MDCCCCIX (1909)."
The statue was sculpted by Charles Henry Niehaus, who was also responsible for a number of public statues and monuments, including several outdoor statues at the state capitol building in Hartford.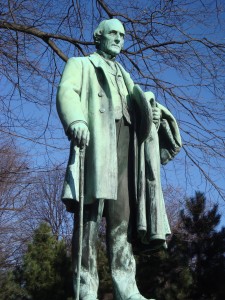 The centerpiece of Beardsley Park is Connecticut's Beardsley Zoo, which was established by the city of Bridgeport in the early 1920s and became independent in 1997. The park is also a popular outdoor recreation and picnicking facility.
Beardsley, who used the land for farming before he donated it to the city, was killed in his home during an 1892 burglary. His murder was never solved.
Sources:
Smithsonian American Art Museum, Art Inventories Catalog
Samuel Orcutt, A History of the Old Town of Stratford and the City of Bridgeport, Connecticut
George Curtis Waldo, History of Bridgeport and Vicinity, Volume 1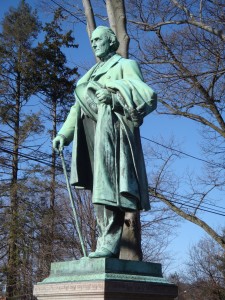 Tags: Bridgeport