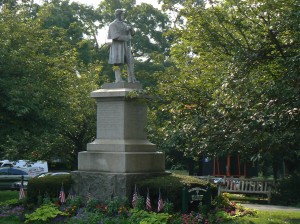 White Plains honors its Civil War veterans with a monument in a downtown park.
The Soldiers' Monument, dedicated in 1872, features the uncommon choice of a zinc statue of an infantryman standing atop a more-traditional granite base. A dedication on the monument's front (west) face reads, "To the soldiers of White Plains who died in the service of their country in the Civil War 1861-1865."
The monument's north and south faces each list the names of about a dozen residents killed in the conflict.
The east face bears the dedication, "Erected by their late comrades and the Town of White Plains, July 4, 1872."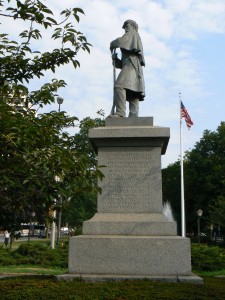 The monument stands in Tibbets Park, near the intersection of Main Street (Route 119) and South Broadway (Route 122).
A large cherry tree directly in front of the monument prevents careful exploration and photography.
Information about the monument's sculptor and supplier haven't come to light, but the White Plains soldier is a copy of a monument that stood on the Civil War monument in Green-Wood Cemetery in Brooklyn, New York.
White Plains' World War I monument stands a short walk north of the Civil War monument. The monument, which features an artillery rifle, bears a simple dedication to soldiers, sailors and marines on its north face.
The use of zinc was relatively uncommon in Civil War monuments. Zinc was marketed as "white bronze" and used, primarily for smaller cemetery monuments, in the late 19th century. The material resists wearing and fading better than marble or granite, but can become brittle after extended exposure to cold weather.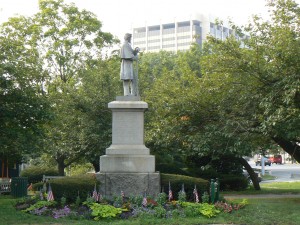 In addition, large zinc monuments often have difficulty supporting their weight, so they often needed later reinforcement with internal steel frameworks.
All-zinc monuments can be found in Stratford, Conn., Gettysburg and several other locations.
The combination of zinc and granite found in White Plains can also be seen in Orleans, Mass.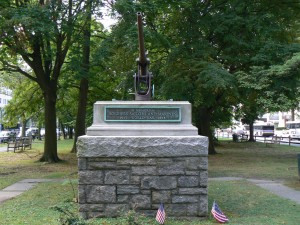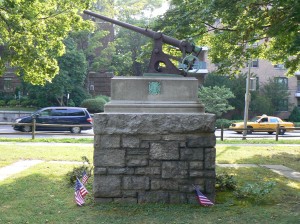 Tags: New York