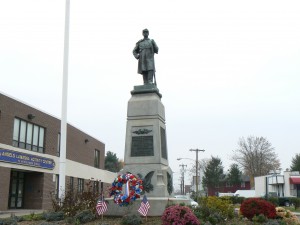 Enfield honors its Civil War and World War I veterans with a granite monument topped by a bronze infantryman.
The Soldiers' Monument, near the corner of Church and North Main streets, was dedicated in 1885 to honor Enfield's Civil War heroes.
A dedication plaque on the monument's front (south) face reads, "In memory of the men of Enfield who, on land and sea, periled their lives for Union and liberty, 1861-1865. Erected by the town of Enfield, A.D. 1885."
A plaque on the east side of the monument lists 10 residents killed in action, 14 who died from wounds, and 15 who died while imprisoned in the Confederate POW camp at Andersonville, Georgia.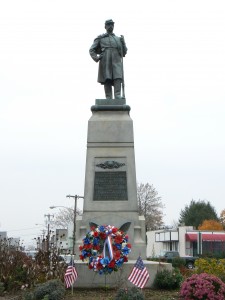 The monument's west side features a plaque listing 29 Enfield residents who died (mostly likely from disease) during their Civil War service.
The monument's base features four eagles with emblems representing the artillery, infantry, cavalry and navy.
The north face of the monument honors Enfield's World War I heroes with a bronze plaque dedicated in 1922. The plaque reads, "In memory of those who gave their lives in the great war for world-wide liberty 1917-1919."
The plaque lists eight residents killed in action and five (including a Red Cross nurse) who died in service.
The monument's sculptor, David Richards, created a number of public works including monuments in Lawrence, Mass., and Manchester, N.H., as well as the newsboy statue in Great Barrington, Mass.
The infantryman was cast by the M.J. Power Foundry, which was also responsible for the Soldiers' Monument in Derby.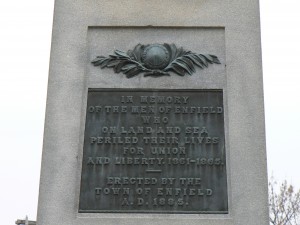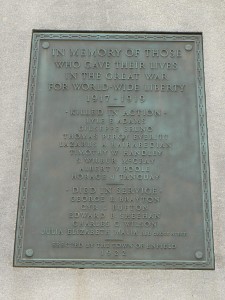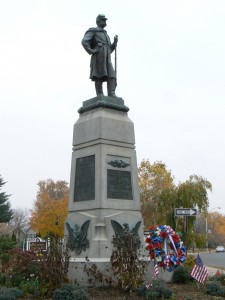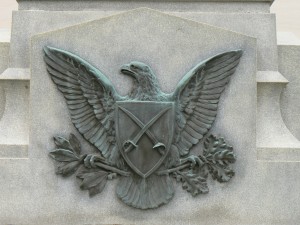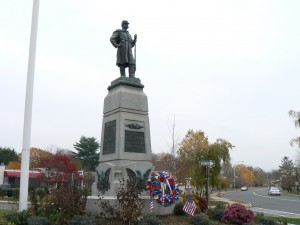 Tags: Enfield