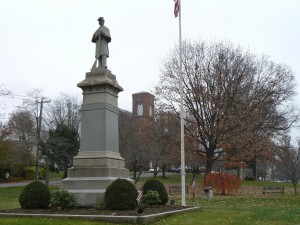 Suffield honors its Civil War veterans with an 1888 monument near the southern end of the Suffield green.
The Soldiers' Monument bears a dedication on its front (south) face reading, "Suffield erects this memorial in honor of her citizen soldiers who died serving their country that the Union might be preserved. 1861-65."
The monument features a granite infantryman holding a rifle at parade rest. In a nice touch, the soldier's left foot extends beyond the monument's base.
The monument's east face lists the names and regimental affiliation of 31 Suffield residents lost in the Civil War. The east face also lists Sharpsburg, a town in Maryland where the 1862 Battle of Antietam was fought.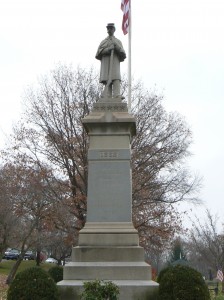 The north face bears an intricate state of Connecticut seal and honors Fort Wagner in South Carolina.
The west face displays crossed cannon representing the artillery and lists Andersonville, a town of Georgia where a large Confederate prisoner of war camp was built.
The monument was supplied by the Maslen Company of Hartford, and was most likely created by craftsmen in Barre, Vermont.