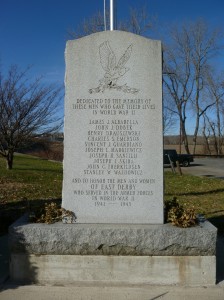 Derby honors World War II veterans from its East Derby section with a monument at the corner of Main Street (Route 34) and Derby Avenue (Route 115).
The undated monument and flagpole base, alongside the Naugatuck River and Route 8, features an engraved eagle and dedication on its front (western) face reading, "Dedicated to the memory of these men who gave their lives in World War II," above 10 names.
The monument further honors the men and women of East Derby who served in the Second World War.
The monument isn't dated, but we found a reference to the state moving utility poles in 1960 to improve its visibility.
The East Derby monument is a short walk from monuments honoring the wartime service of people who worked in the former Farrel Corp. factory, which stood on today's Home Depot site.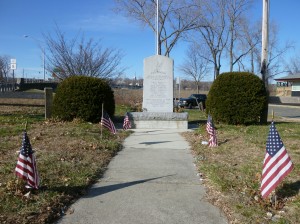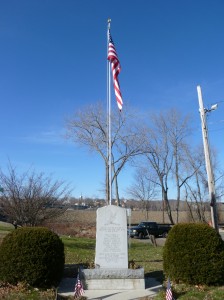 Tags: Derby