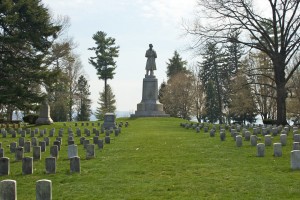 The Antietam National Cemetery is the final resting place of nearly 4,800 Union Civil War veterans as well as more than 200 veterans of other wars.
The cemetery, on Route 34 in Sharpsburg, was dedicated on Sept. 17, 1867, the fifth anniversary of the Battle of Antietam. The land chosen for the cemetery site, which stands west of the battlefield, was occupied by Confederate artillery during the battle.
The cemetery is dominated by a 45-foot-high monument depicting a Union soldier at rest. Formally known as the Private Soldier of the Civil War, the figure also bears the local nickname "Old Simon."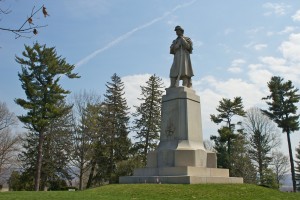 A dedication on the front (north) face of the monument's base reads, "Not for themselves but for their country." The north face also bears the date of the battle and a carved trophy with crossed flags, swords and other military accoutrements.
The cemetery holds 4,776 Union remains from Antietam and other Civil War battles in Maryland, as well as more than 200 veterans from the Spanish-American War, the World Wars and Korea. Among the Civil War heroes, more than 1,800 could not be identified.
The Connecticut section, on the east side of the cemetery, has 82 graves of soldiers that were identified.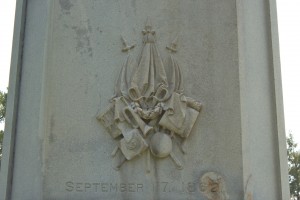 After the battle, the dead were buried hastily on the battlefield or near buildings that had served as hospitals. In 1866 and 1867, remains were recovered and prepared for reburial in the national cemetery (many veterans from Maryland and Pennsylvania were claimed by their families for burial in their hometowns).
The Private Soldier monument, which was dedicated in the cemetery in 1880, was designed by Hartford monument dealer James Batterson, whose firm supplied a number of Civil War memorials in Connecticut.
The design is believed to be among the first depictions of a standing soldier as part of a Civil War monument. The monument was carved by sculptor James Poletto (pictured below working on the monument) of Westerly, Rhode Island.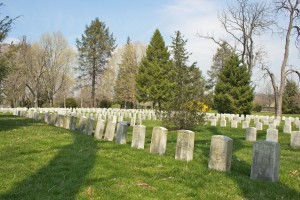 The monument was created in several sections, and the upper half of the soldier figure spent several months in the Potomac River in Washington, D.C., after falling from a barge.