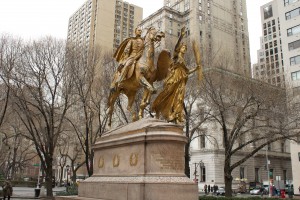 New York honors Union General William Tecumseh Sherman with a Saint-Gaudens statue at an entrance to Central Park.
The Sherman statue, at the park southeast entrance at Fifth Avenue and West 59 Street, was the last major work by noted sculptor Augustus Saint-Gaudens.
The monument, dedicated in 1903, depicts the general atop his horse being led by Nike, the goddess of victory. Nike holds a palm branch, representing peace, aloft in her left hand.
A dedication on the south face of the monument's base reads, "To General William Tecumseh Sherman, born Feb. 8, 1820, died Feb. 14, 1891. Erected by citizens of New York under the auspices of the Chamber of Commerce of the State of New York."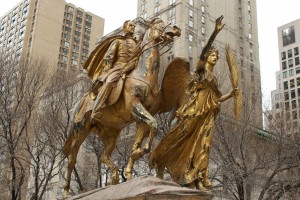 Pine branches and needles near the horse's rear hooves represent Sherman's Civil War march through Georgia and the Carolinas.
Along with the incredible detail, the statue is notable for its gold leaf covering. The gold leaf, which has worn off in several places, was reapplied during a 1989 restoration of the monument and the nearby Pulitzer Fountain. Immediately after the restoration, the monument was a bright gold, and  almost painful to look at on sunny days.
Sherman, an Ohio native, lived in New York after his retirement from the military. The general and Saint-Gaudens met several times before Sherman's death, with the general posing and sharing war stories with the sculptor.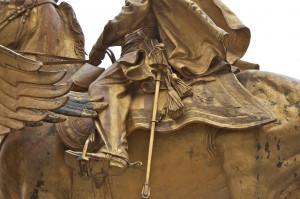 Saint-Gaudens had hoped to place the monument near U.S. Grant's tomb, but objections from both generals' families led to the consideration of other sites before the Central Park location was selected.
Manhattan's Grand Army Plaza is one of two in New York, with the other being near Brooklyn's Prospect Park.