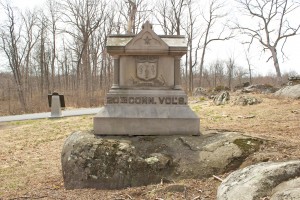 The monument honoring the 20th Connecticut Volunteer Infantry Regiment's  service during the Battle of Gettysburg stands near the southern end of Culp's Hill.
The monument, dedicated in 1885, was placed on the regiment's battle line during the mornings of the battle's second and third day. The monument was oriented east to face the woods toward enemy lines, so visitor to today's Slocum Avenue see the rear face first.
The monument's front (east) face bears the simple inscription, "20th Conn. Vols." along with a state seal and the 12th Corps' star. The north face lists the unit's casualties in Gettysburg as well as the rest of the war.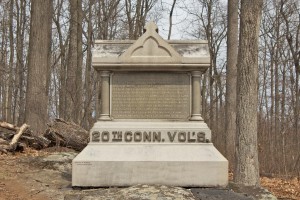 At Gettysburg, the regiment had five members killed, 22 wounded and 1 reported missing.
The monument's west face bears a detailed description of its action at Gettysburg, and the south face lists the regiment's 14 engagements during the Civil War.
The 20th was recruited primarily from New Haven and Hartford county residents, and was organized in New Haven in September of 1862. It served in the Virginia in 1862 and 1863, including the Battle of Chancellorsville in May of 1863.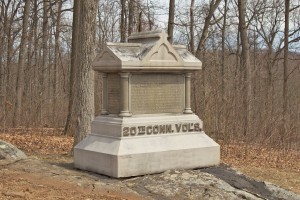 The regiment arrived in Gettysburg on July 2, 1863, and was placed along the right flank of the Army of the Potomac. After building defensive earthworks, the regiment was later shifted to the woods of Little Round Top to support fighting along the army's left flank.
When they returned to Culp's Hill that night, they found their earthworks had been taken by Confederate forces.
The next morning, the 20th helped repulse Confederate attacks on Culp's Hill, and helped direct Union artillery fire. Unfortunately for the 20th, this required close proximity to the enemy and exposed the regiment to poorly targeted or misfiring shells.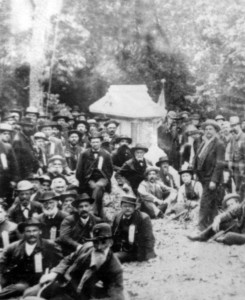 At least one member of the regiment was struck by friendly fire, with Private George Warner of Bethany losing  both arms after being hit by a Union artillery shell.
During the monument's 1885 dedication ceremonies, Warner removed the flag that covered the monument before its dedication. Pulleys were placed in a nearby tree and a rope was tied around Warner's waist. As Warner walked backwards away from the monument, the flag was lifted from the new monument.
In the black-and-white image of the dedication ceremony, which came from our friends at The Gettysburg Daily, Warner can be seen sitting on a large boulder near the center of the image. That boulder, just northeast of the monument, is known today as the Warner Rock.
The 20th CT monument is a short walk from a monument honoring the 5th CT Regiment. In the wide view of Slocum Avenue at the bottom of this post, the 20th monument is on the left. The monument in the middle honors the 3rd Maryland Infantry (U.S.), and the 5th Regiment's monument is on the right.