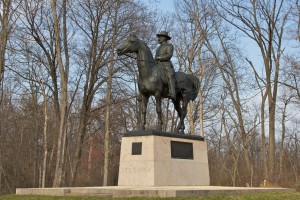 Connecticut native and Sixth Corps commander Maj. General John Sedgwick is honored with an equestrian monument at Gettysburg.
The monument to Sedgwick, born in Cornwall Hollow, is on Gettysburg's Sedgwick Avenue, just north of the intersection with Wheatfield Road.
The monument, dedicated in 1913, depicts Sedgwick (and his horse) looking west toward the battlefield. A dedication on the north side of the monument's base reads, "Major General John Sedgwick. In command of the Sixth Corps, Army of the Potomac, at Chancellorsville, Gettysburg, the Wilderness, and Spotsylvania. Born at Cornwall, Conn., September 13th 1813. Killed at Spotsylvania, Va., May 9th 1864."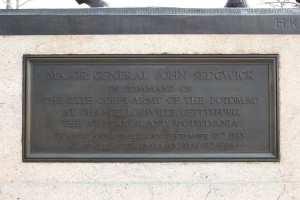 The west face bears a bronze Connecticut seal, and the south face bears a dedication reading, "Erected by the State of Connecticut in grateful memory of the service given to the nation by her honored son John Sedgwick.  Loyal citizen, illustrious soldier, beloved commander."
The monument was created by Henry K. Bush-Brown, who was also responsible for the George Meade and John Reynolds equestrian monuments at Gettysburg.
Sedgwick, a career army officer, served in the Mexican-American War as well as on the Western Frontier. He was severely wounded at Antietam, but returned to take command of the Sixth Corps.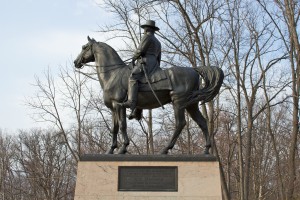 Sedgwick was killed during the Battle of Spotsylvania in 1864. While rallying his troops, he claimed they were beyond the range of Confederate snipers moments before he was mortally wounded.
Sedgwick was buried in his native Cornwall Hollow, and is honored there with a monument across Cornwall Hollow Road (Route 43) from his grave.
During the Battle of Gettysburg, the Sixth Corps arrived on the field late on July 2 after a march of more than 30 miles during the day and night of July 1. The corps assisted the Fifth Corps in repelling Confederate attacks. The next day, the Fifth was held in reserve, with portions being deployed in various sections of the Union line. At one point, different units under Sedgwick's command were psoted on the far right and left flanks.