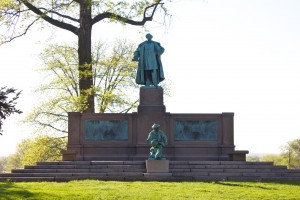 Samuel Colt is honored with a memorial statue in a park on the grounds of his former estate.
The Samuel Colt monument, near the Wethersfield Avenue entrance to Colt Park, was commissioned by Colt's wife Elizabeth and dedicated in 1906 to honor the industrialist.
The monument depicts Colt at two stages in his life. The smaller statue, near the front of the monument, depicts a young Colt whittling a revolver chamber while serving as a sailor. The larger figure, standing atop the monument, depicts Colt as a successful manufacturer.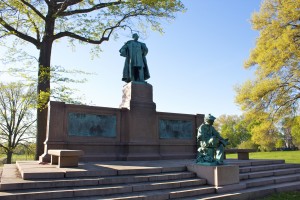 A dedication on the center panel of the monument's west face reads, "Samuel Colt 1814-1862. On the grounds on which his taste beautified by the home he loved, this memorial stands to speak of his genius, his enterprise, and of his great and loyal heart."
The monument also features two bronze panels illustrating scenes from Colt's life. In the panel on the left, Colt is pictured meeting with the Russian Tsar, but the plaque's staining make it tough to identify Colt or to figure out what's going on.
In the right, panel, Colt is seen demonstrating a revolver to the British House of Commons. That plaque is also stained and faded, but you can see Colt holding a gun.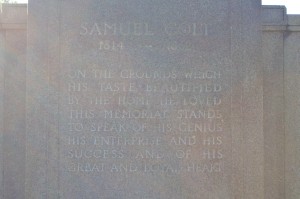 The monument was created by sculptor John Massey Rhind, whose works include the allegorical figures outside the New Haven County Courthouse.
After Colt's death, Elizabeth ran the manufacturing business until she sold it in 1901. In addition to donating the family estate as a park after her 1905 death, she also sponsored the construction of Hartford's Church of the Good Shepherd and a building at the Wadsworth Atheneum.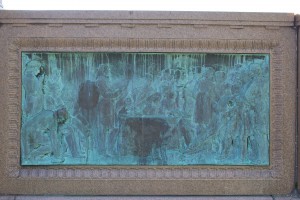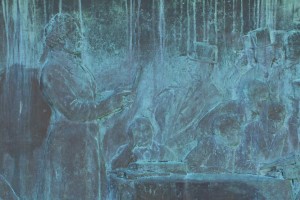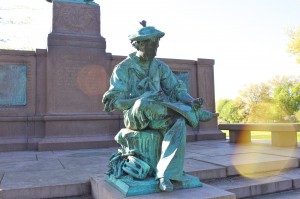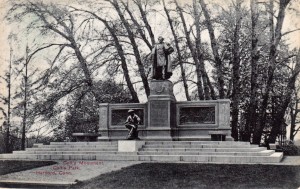 Tags: Hartford