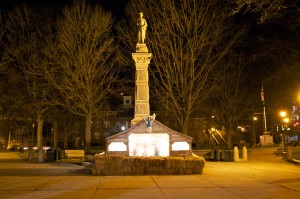 Naugatuck honors its Civil War veterans with a monument on the town green.
The monument, which we first visited in 2009, was dedicated in 1885. Its east face bears a dedication from the people of Naugatuck "In honor of her sons who fought to maintain the Union 1861-1865."
The monument in the right background of the top image was dedicated in 1921 to honor Naugatuck's World War I veterans.
The creche displayed in front of the monument plays Christmas carols.