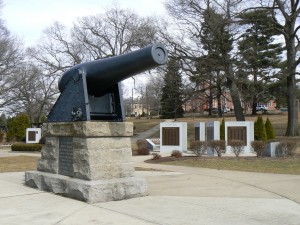 North Haven honors local veterans with a collection of monuments on the green across from its 1886 Memorial Town Hall.
Near the southern end of the green, North Haven honors Civil War veterans with a 1905 monument that features an 1867 Rodman gun mounted on a stone base. A dedication on the base's front (west) face reads, "Erected by the town of North Haven as a tribute to the valor of her sons who on land and sea fought in the Civil War to preserve the Union."
The east face lists the monument's 1905 dedication date and honors the battles of Cedar Mountain, Fort Wagner, Fredericksburg, Fort Gregg, and Petersburg (all in Virginia).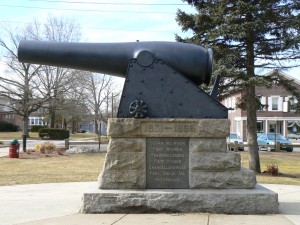 The cannon was manufactured in 1867 at the Fort Pitt Foundry in Pittsburgh, and was one of four installed at Lighthouse Point in New Haven. Another Lighthouse Point cannon stands as a Civil War monument on the East Haven green. Another that stood near Milford's Soldiers' and Sailors' Monument was lost to a World War II scrap drive, and the fate of the fourth cannon isn't readily known.
A pyramid of replica cannonballs stands near the monument.
Also north of the Civil War monument are memorials to local veterans who served in Vietnam and Korea. Those wars are commemorated with Honor Roll plaques mounted on granite monuments.
Moving farther north, we find North Haven's World War II monument, which features two large Honor Roll plaques listing local veterans in 10 columns. The right side of the monument also lists seven residents killed in the conflict as well as one who was missing in action. The left side has a plaque honoring nine residents who were held as prisoners of war.
Across Church Street stands North Haven's 1886 Memorial Town Hall, which was the town's first tribute to its Civil War Veterans. Just inside the lobby are plaques listing local veterans who served in the Civil War and World War I, and a monument honoring all war veterans stands in front of the building.
The plaque listing residents who served in the Civil War is a later replacement for a marble plaque (now owned by the North Haven Historical Society) listing residents who died in the war.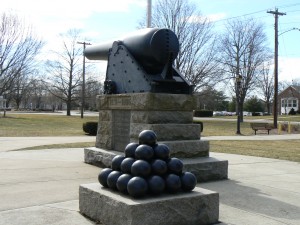 The erection of a memorial hall and a Civil War monument reflects a debate held in several Connecticut towns whether to honor veterans with a monument or a civic building. As was the case in Madison, monument supporters continued campaigning well after a town hall had been constructed, and the town eventually received both.